Oxygen Advantage - Poland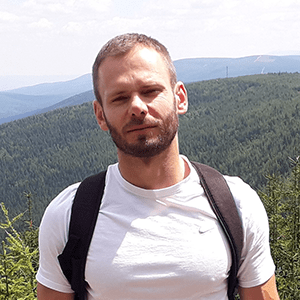 Michal Mika
Michał Mika mieszka w Świdnicy, woj. Dolnośląskie. Jest trenerem personalnym i instruktorem treningu siłowego. Od najmłodszych lat związany ze sportem, ponad 20 lat był zawodnikiem piłki nożnej, grał również w tenisa stołowego i ziemnego. Od zawsze poszukiwał naturalnych sposobów na poprawę zdrowia oraz wydolności w sporcie. Pierwsza przeczytana książka na temat metody oddechowej Butejki zmieniła jego życie. Poprawa zdrowia, koncentracji, snu oraz redukcja stresu skłoniły go do poszukiwania dalszych informacji na temat fizjologii oddechu. W listopadzie 2017 roku odbył kurs instruktorski z metody Butejki a pół roku później, po zakończeniu procesu certyfikacji otrzymał uprawnienia instruktora.
Michał z powodzeniem stosował ćwiczenia oddechowe u siebie i swoich podopiecznych a naturalnym kierunkiem rozwoju w tej dziedzinie było poznanie przewagi tlenowej.
"Przewaga tlenowa wzniosła mój trening oraz trening moich podopiecznych na nowy, wyższy poziom"
Obecnie pracuje m.in. z triathlonistami oraz biegaczami OCR, w których sam od niedawna startuje.
Michał jest w trakcie zakładania fundacji, której celem będzie m.in. poszerzanie świadomości wśród rodziców i ich dzieci na temat prawidłowego oddychania oraz zagrożeń wynikających ze złego oddychania w kluczowym okresie rozwoju.
Pozostałe umiejętności i uprawnienia
KAATSU SPECIALIST
Instruktor StrongFirst Girya 1
Instruktor TRX SMSTC i GTC
Buteyko Clinic International Accredited Practitioner
Michał Mika lives in Świdnica. He is a personal trainer and strength training instructor. From an early age associated with sports, over 20 years he was a football player, he also played tennis and table tennis. He has always been looking for natural ways to improve health and performance in sport. The first book he read about Buteyko's breathing method changed his life. Improved health, concentration, sleep and stress reduction prompted him to seek further information on the physiology of breath. In November 2017 he took an instructor course from the Buteyko method and half a year later, after completing the certification process, he received the instructor's license.
Michał successfully used breathing exercises for himself and in his students, and the natural direction of development in this field was to learn about Oxygen Advantage.
"Oxygen advantage has elevated my training and training of my students to a new, higher level"
Currently work with triathlonists and OCR runners, in which he has recently started. (???)
Michał is in the process of setting up a foundation, which will include raising awareness among parents and their children about proper breathing and the risks of bad breathing in a crucial period of development.
Other skills
KAATSU SPECIALIST
Instruktor StrongFirst Girya 1
Instruktor TRX SMSTC i GTC
Buteyko Clinic International Accredited Practitioner
Gosia Bochińska – Gdynia
By profession I am an interior designer and real estate developer. My passion for continuous improvement made me curious and open to all things new…l love creative cooking, I enthusiastically share open water swimming, running, mountain hiking and acroyoga practice with my husband and friends and have made meditation my daily practice learning day by day just to be. Dreaming to make my dreams become a sustainable reality led me to have the strong will of finding equanimity in my life. I have been thinking of balance, but I have wanted more, trusting hard, hard work… Luckily my body – my best teacher- constantly demands easier ways. I have been learning from pain and returning injuries. My question always was how to move lighter, with less effort, smoother and more effectively … I was thinking of MORE ….but it was all about LESS… I have started to watch the HOW of my life. I have fallen in love with Chi-Running, Total Immersion swimming and Feldenkrais lessons. Meeting Patrick was a meaningful step in understanding that how you do anything is how you do everything in your life , and what it really means to be healthy and in good form.
I am a certified by Patrick McKeown as an Oxygen Advantage® instructor, Chi-Running & Chi-Walking by Danny Dreyer and also certified in the Buteyko Breathing Method. l live and teach in Poland , Gdynia.
To accompany somebody's journey into themselves, even for one breath, means a lot to me:)