Add a Load to Training Using Oxygen Advantage® Breathing Techniques
Have you ever tried to nose breathe during a sprint? It's not for the faint hearted.
Nose breathing improves performance on the football field. And it pushes your mental and physical boundaries. Especially when you're running flat out.
Or take it up a level…
Exhale and hold your breath. Jog or sprint with empty lungs. Keep going until you feel strong air hunger. This exercise boosts repeated sprint ability in professional team sports players. And it works in just a few weeks.
Add nose breathing and breath holding to your sprint training. You'll feel less fatigue and better stamina during play.
Why? Because nose breathing adds a load. And effective training is all about adding an extra load.
OA™ is a breathing technique to improve sports performance. It uses 2 main pillars:
Pillar 1
Optimize everyday breathing for reduced breathlessness
Increase oxygen uptake and delivery to working muscles
Improve energy
Boost recovery
Strengthen the breathing muscles
Pillar 2
Breath-hold exercises to lower blood oxygen saturation and increase carbon dioxide (CO2).
This is a powerful exercise that delays lactic acid and fatigue. It also results in improved oxygen-carrying capacity.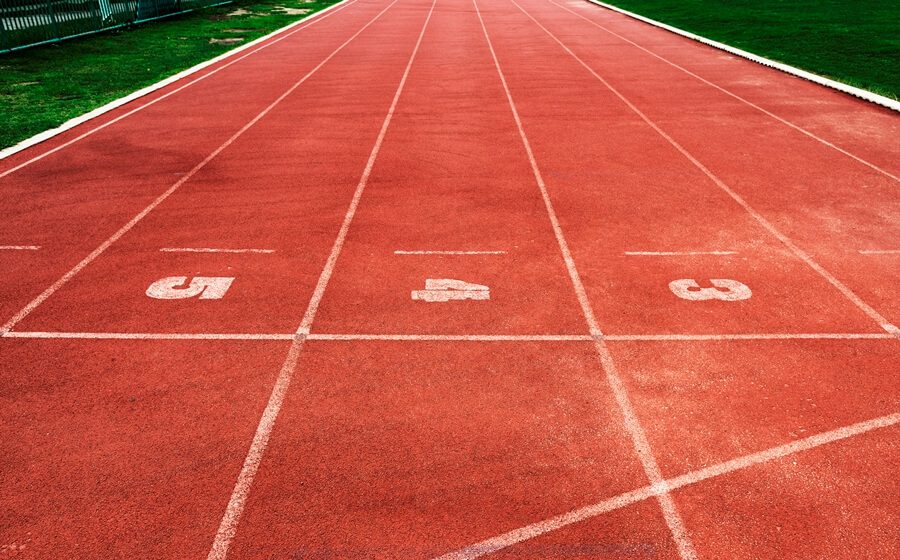 To be successful and maintain performance, you need to be faster and stronger.
You need weekly strength and power training even out of season. And off the pitch, you work hard to optimize physical condition.
You need physical agility. But you also need mental focus, resilience and recovery. Skills like maximal speed and repeated sprint ability are fundamental.
From healthy diet and nutrition to interval training and core strength, you eat, sleep and breathe football.
But do you think about how you breathe during exercise?
Eat, sleep and breathe!
For soccer players, breathing exercises offer a wide range of benefits:
Better buffering and lactic acid capacity
Stronger breathing muscles
Better endurance
Boost EPO and increase red blood cell count
Faster recovery times and less risk of injury
Get mental clarity and eliminate performance anxiety
Better sleep quality
Easily integrated into your football warm-up exercise routine with no extra exercise equipment
Suitable for young soccer players and International professionals
Help you maintain condition even if you're injured
OA™ pushes you harder to maximize fitness and conditioning. And it teaches you to access your nervous system so you can maintain a calm, focused mind.
How does Oxygen Advantage® work?
In the OA™ method we talk about breathing from three dimensions:
Biomechanical (using the diaphragm)
Biochemical (breathing to optimize oxygen and CO2)
Cadence (paced breathing at 4.5 – 6.5 breaths per minute)
The foundation of all three dimensions is nasal breathing.
Despite what many fitness experts tell you, nose breathing in and out is better. During intensive play you'll need to open your mouth to breathe. But when you're training, nose breathing:
Protects against dehydration,
Prevents exercise-induced asthma and airway trauma,
Keeps your airways clear of congestion,
Adds resistance to breathing for better lung gas exchange,
Engages your diaphragm, building strength in your core,
Keeps you mentally alert, activating areas of your brain connected with concentration,
Calms your nervous system so you can make better decisions,
Provides better body oxygenation and faster recovery,
Is less tiring for breathing muscles
Improves circulation in your legs
Improves blood flow to your brain.
Not a bad result, just from keeping your mouth shut.
Add Oxygen Advantage® to your football warm-up drills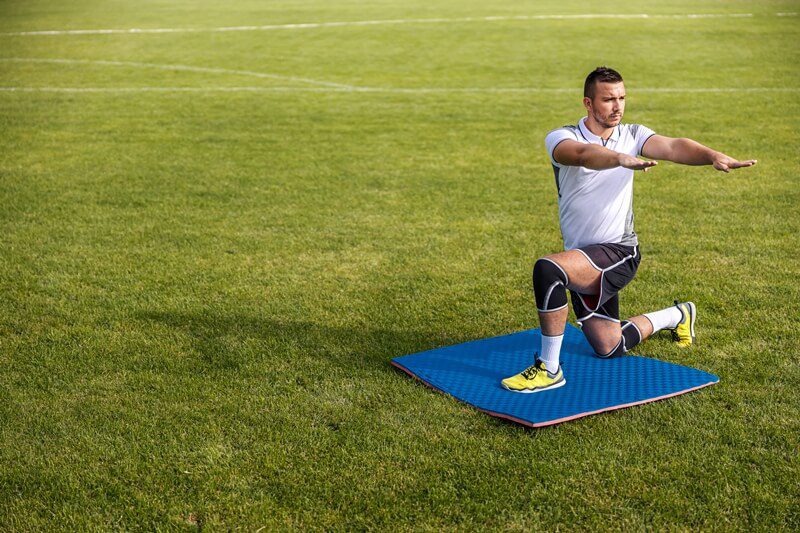 Your football warm-up is an ideal time to add some breathing exercises. You can do this in 2 easy ways without interrupting your training:
1. Breathe slow and low, only through your nose
During low intensity work, nose breathing is key.
Open mouth breathing makes it difficult to engage your diaphragm. And it blows off too much carbon dioxide (CO2).
CO2 is important. Your body needs it to access the oxygen in red blood cells. When you breathe hard through an open mouth, you deprive your body of oxygen.
Mouth breathing is also linked with:
Mental stress
Back and neck pain
Muscle trigger points
And, when it comes to airway health, open mouth breathing bypasses your body's immune defenders. It leaves the goal wide open for viruses and allergens.
At a time when we're particularly aware of infection spread, this is really important.
Recommendations:
Use MYOTAPE Sport while your body adapt to nasal breathing. If you have a small nose, deviated septum or nasal obstruction, use an internal nasal dilator to optimize airflow.
2. Practice strong breath holds
During your football warm-up exercises, practice 2 easy breath holds followed by 5 strong breath-holds (below).
Strong breath holds simulate training at high altitude. They challenge the body, open the airways and improve diaphragm strength. They also boost your body's response to your workout.
Practice this exercise as part of your weekly training to increase EPO.
Breathe in and out through your nose.
Pinch your nose with your fingers to hold the breath.
Hold your breath and walk.
As air hunger gets stronger, walk faster or begin jogging.
Continue walking/light jogging and holding your breath until you feel a strong air hunger.
Let go of your nose and resume breathing with six minimal breaths in and out through the nose. When doing this, try to avoid taking big breaths.
Breathe normally for 12 to 18 breaths.
Repeat from the top, five times. Practice once daily.
Strength training and speed in football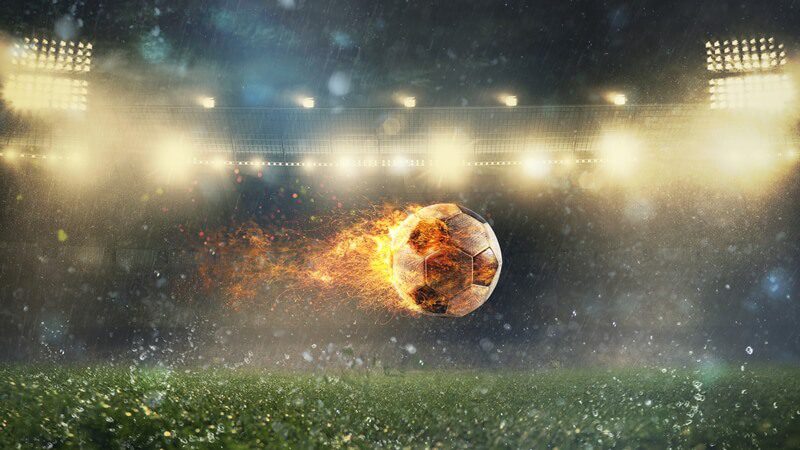 Anaerobic capacity is an important factor in football. In any single game, you need to switch quickly between jumping, running and repeated sprints. You can reach speeds of 30 km/h for as much as 5% of the match. And you might change direction as many as 500 times.
It's quite easy to increase aerobic capacity using cardio training. But anaerobic capacity is different. It's during anaerobic exercise that your body adapts to become faster and stronger.
Positive effects of anaerobic exercise include:
More power
Better bone mineral density
Faster metabolism
Weight management
Higher lactate threshold
Less depression
Less risk of disease
Increased energy
During training you'll practice speed drills like repeated shuttle sprints. These exercises are intense. But they can increase risk of ankle, ACL and hamstring injuries. This can leave you sitting on the bench during important games.
Instead, add strong breath holding to your football fitness drills. You will get a better anaerobic workout, without the risk of injury.
Did you know?
Repeated sprint practice with an open mouth only reduces blood oxygen to around 93%. But with breath holds, it's possible to achieve oxygen desaturation to around 80%. The intensive oxygen desaturation stimulates anaerobic glycolysis. It causes the spleen to contract and boosts long-term oxygen carrying capacity.
How to get fit for football
Research shows that stamina on the pitch is directly related to breathing efficiency. When your breathing is slower, circulation and oxygenation are better. Which means you have more energy when you need it.
Breathing becomes more efficient when you decrease your sensitivity to CO2. When tolerance to CO2 is low, you will experience more breathlessness. And your breathing muscles will have to work harder.
The OA™ uses a measure called the BOLT score. The BOLT is an objective measure of sensitivity to CO2 and to breathlessness.
To measure your BOLT score, you will need a stopwatch or timer that counts in seconds.
Instruction:
Take a normal, silent breath in through your nose.
Allow a normal, silent breath out through your nose.
Hold your nose with your fingers to prevent air from entering your lungs.
Count the number of seconds until you feel the first distinct desire to breathe in.
Many pro athletes start out with a BOLT score of about 20 seconds. If you have asthma it might be lower. With regular practice of the breathing exercises, you're aiming to reach 40 seconds.
The exercises improve tolerance to CO2 and can be integrated into your football fitness training drills. Better tolerance to CO2 will significantly increase your exercise capacity.
When your BOLT score is 40 seconds, breathing is light and slow during rest and moderate exercise, and the nervous system is well balanced.
Muscular Endurance in Football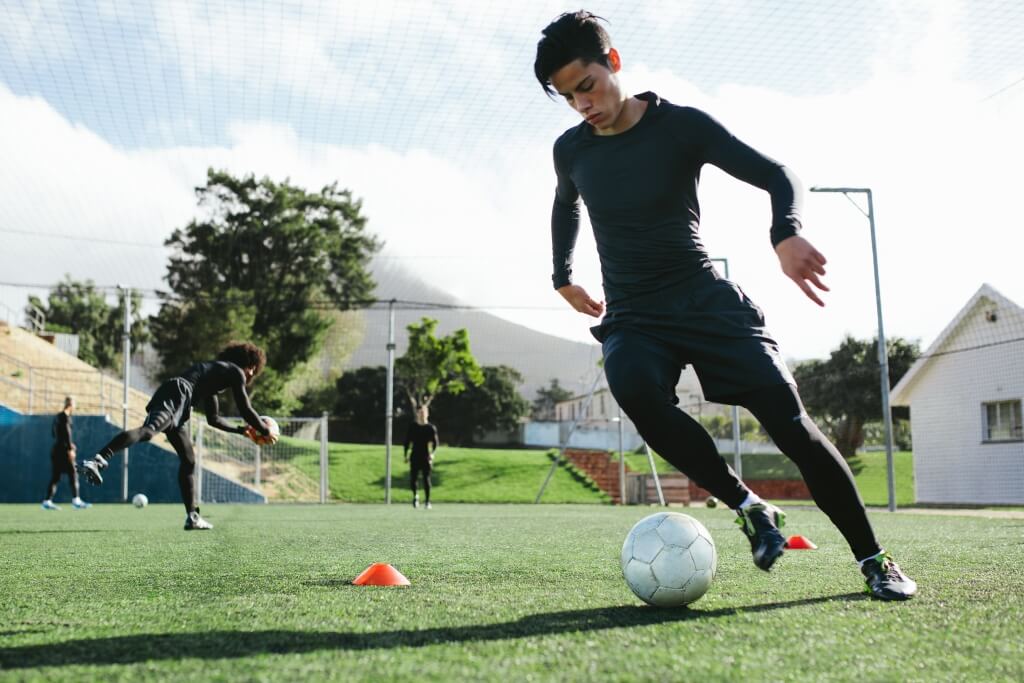 When you think about muscular endurance in football, you might not consider your breathing muscles. But any fitness program for football players should include exercises to strengthen the diaphragm.
Your diaphragm forms an integral part of your core. As it moves up and down, it creates pressure in your abdomen that stabilizes your spine and pelvis.
A strong diaphragm muscle is essential for agility. If breathing is not functional, movement cannot be. If your diaphragm is exhausted, you're more likely to get injured.
The diaphragm is made from the same type of muscle as the muscles that move your joints. You can thicken it to support functional movement, power and endurance. But it can be difficult to strengthen the diaphragm during normal football fitness training, because it's normally only possible to exercise to the limit of the breathing muscles.
Strong breath holds exercise the diaphragm.
To add a greater load to breathing, Oxygen Advantage® uses SportsMask. The mask works progressively. It strengthens the diaphragm, just like lifting weights builds your arm muscles.
Strong breath holds also stimulate production of EPO. This increases the oxygen carrying capacity of your blood. And they reduce lactic acid build-up, delaying fatigue and improving endurance.
But lactic acid is not the only cause of heavy legs. Your body will always prioritize breathing. So, when your breathing muscles tire, your body diverts blood from your legs. The only way to avoid this is to develop more efficient breathing.
When your breathing muscles are stronger and don't have to work so hard, circulation to the working muscles in your legs can increase by as much as 7%.
Muscle recovery after workout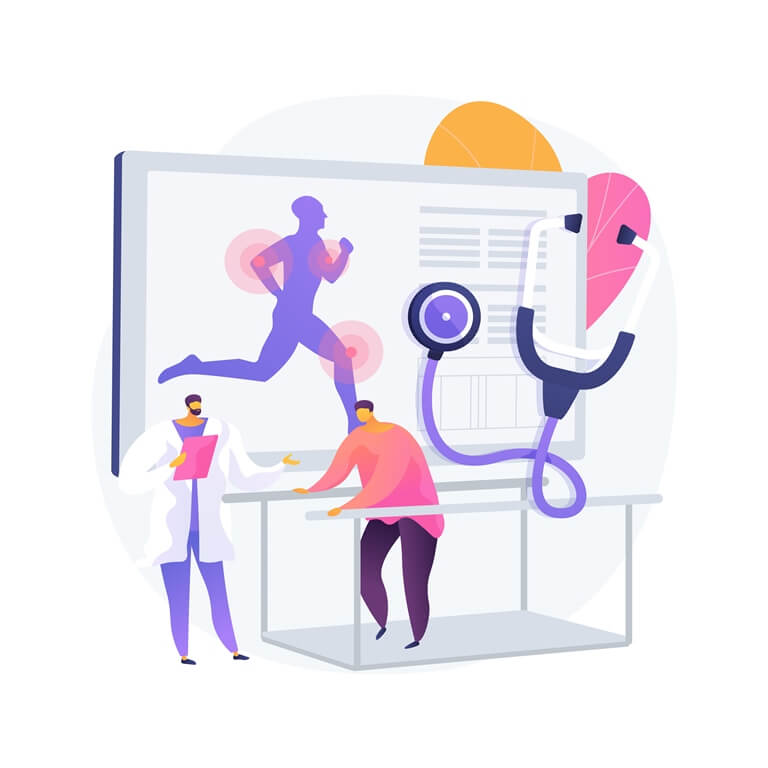 It's normal to have sore muscles after your workout. Delayed onset muscle soreness (DOMS) is a sign your muscles are building. But you can use breathing exercises to help the process of recovery — post-sprint, post-match and during half time.
The OA™ can help muscular recovery in 3 ways:
1. Efficient breathing for better body oxygenation
When you breathe through your nose, your muscles get more oxygen. This helps them function better and recover fast.
We pay attention to how you breathe post-sprint to get optimal oxygenation.
2. Breath holding reduces muscle soreness after workout
Strong breath holding increases lactic acid threshold. This delays fatigue and speeds up recovery.
And science has shown that intermittent periods of low blood oxygen (hypoxia) stimulate muscle growth and repair. Which means breath holding literally makes your muscles stronger.
3. Paced breathing means quick muscle recovery after your workout
Slow, paced breathing at 4.5 to 6.5 breaths per minute improves the function of your body's rest and digest systems.
This builds better heart rate variability and vagal tone. And it improves overall health. HRV is important for mental and physical resilience. Low HRV can indicate overtraining and leave you vulnerable to injury.
When you slow your breathing down, you'll also sleep more deeply. Deep-stage sleep is vital for your body's recovery from exercise.
Mental toughness in football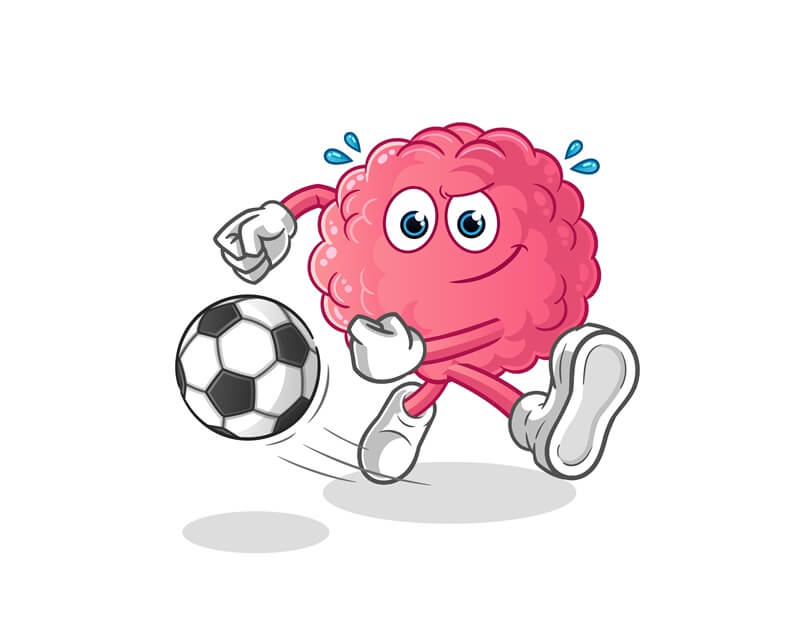 Mental toughness in football is not about pretending to be strong. It's about resilience, getting enough rest, recovery and confidence in your ability.
It's about pre-game mental preparation. Focus, concentration, and knowing how to get in the zone.
You can deliberately access this psychological control using your breath. And once you've developed this skill, it transcends every area of your game. Because when your mind isn't racing, you can concentrate and play at your best.
Oxygen Advantage® includes exercises to up-regulate and down-regulate your nervous system. Over time, you develop resilience to stress and learn to master the mental and physical systems you need to excel.
Stress and performance anxiety in football players
In a highly competitive sport, performance anxiety can carry a stigma. But like it or not, sports anxiety can manifest during important games or penalty shoot-outs. It can show up as insomnia when you need a good night's sleep. And anxiety in football players can lead to problems with drug and alcohol misuse.
Performance anxiety in sport is closely related to breathing. When you're stressed and nervous, you are more likely to hyperventilate (over breathe). This feeds back to make your anxiety worse.
Fast, hard mouth breathing activates your fight or flight response. If you watch top strikers prepare to score, you see them focus in on the ball. The mouth is closed, the breathing calm. For Gareth Southgate's notorious Euro 96 penalty his mouth is open to breathe. Conversely, if you look at Alan Shearer, more often than not, his lips are clamped shut as the ball flies into the back of the net.
It's no coincidence. Nose breathing supports calm mental focus and helps with spatial awareness. If you prepare your penalty kick with a big breath in through your open mouth, science says you're less likely to score.
The OA™ uses paced breathing at 4.5 to 6.5 breaths per minute. This activates your parasympathetic nervous system which down-regulates stress. It gives you the tools to focus, even under intense pressure.
Sleep recovery and performance in sports
There's a reason they call a top football squad the 'dream team'…
Better quality sleep makes you a better player.
But when your life revolves around football, sleep won't be your number one priority. Intensive schedules and high stress mean sport and sleep often don't go hand in hand. Even though pro football players actually need more rest.
Face it, you need sleep for recovery and performance in sports. When sleep is inadequate, stress hormones rise, and physical and mental health suffers.
Science has also proven that significant number of young athletes have sleep-disordered breathing. In fact, they're more at risk than the average middle-aged man. These young players are also more likely to have low blood oxygen levels and higher pulse rates at night. Which leaves them vulnerable to heart abnormalities.
The study I just described examined sudden cardiac death. This indicates just how important sleep is for young players.
Some facts about sleep and sports performance
When sleep patterns are healthy, the body naturally produces anabolic hormones. These hormones produce the same effects as anabolic steroids.
When sleep is poor, performance suffers. Speed, endurance, strength, executive function, learning, attention, running performance, reaction time, mood, vigor, max bench press, leg press, deadlift and tennis serve accuracy are all affected. If your sleep is less than optimal, you won't be on top of your game.
In the run up to competition, it's normal to have trouble falling or staying asleep. This may be due to stress, or it could be the result of sleep-disordered breathing. Sleep disorders are hard to self-diagnose. And professional athletes are fearful about seeking help. In a competitive atmosphere, it can feel like success equals 'survival of the fittest.'
When your sleep is compromised, fitness levels drop too.
What can professional soccer players do to improve sleep?
Work to restore full-time nasal breathing day and night.
Practice slow, low, paced breathing to down-regulate your nervous system.
Oxygen Advantage® uses MYOTAPE along with breathing exercises to resolve sleep-disordered breathing.
Before the whistle…
More and more team sports players are using breathing exercises or 'breathwork' to ensure optimum performance. The science already exists to show that it works. Don't get left on the sidelines. Breathe new life into your football fitness training. Get the OA™.